When Redland's mother of two had a mid-life career change, she never expected her new job would involve hanging out in cafes! After 25 years in marketing, Rachel Wilkinson re-trained as a counsellor and entered into private practice in 2017. Since then, she has seen many clients suffering from loneliness and isolation as face to face connection is quickly being replaced by on-line socialising.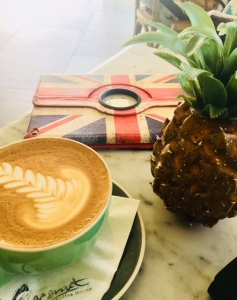 Rachel, a resident of the Redlands for over a decade said after she moved from Sydney to Brisbane in the early 2000s she found it difficult to make friends outside the workplace. Once children came along, the opportunities broadened but time diminished. "I know how crucial it is to have someone you can call on, especially if you don't have family nearby. You need to invest time to be a good friend, but as we all get busier, we really have to schedule it in."
The idea to form a connection group began initially with sessions at her home in Wellington Point. As the group began to grow, Rachel looked for a larger space. She approached local cafes in Wellington Point and Ormiston with the idea of coffee and counselling.
The group started meeting at Refuelled Cafe in Wellington Point on Fridays and connections were made very quickly. "It didn't take long to work out we are all connected, either by experiences, friends, upbringing, school, work or business. People walk away with new numbers in their phones after the first session." Rachel said.
When she approached Coconut Coffee House in Ormiston with the idea of creating a coffee and connection group, owner Catherine Harmer was excited to get on board. "My goal has always been to make Coconut a place where people feel nurtured," said Catherine. "Rachel's idea of bringing like-minded people together over coffee and cake is perfect. It is a great way to meet new friends, share thoughts and ideas and feel supported. Some of my best ideas have been over coffee!"
The group sessions run from Refuelled Cafe on Friday from 11 am and Coconut Coffee House on Tuesday mornings from 8.30 am for approximately an hour. Contribution for the sessions is $10. Rachel provides the additional support of counselling in each session. You can book your seat by emailing info@rachelwilkinson.com.au
Rachel Wilkinson has a degree in Communications, and holds Diplomas in Remedial Massage and Holistic Counselling. She operates from a private practice in Wellington Point and Step into Health Clinic at Mansfield. Rachel runs workshops for anxiety, cafe connection groups and is a regular blogger on parenting, family and wellbeing. She has recently released an e-book about giving up drinking called Hell in a Handbag available on her website https://www.rachelwilkinson.com.au/product/hell-in-a-handbag-e-book/
https://www.rachelwilkinson.com.au/wp-content/uploads/2017/04/rachel_wilkinson_logo_web.png
0
0
Rachel Wilkinson
https://www.rachelwilkinson.com.au/wp-content/uploads/2017/04/rachel_wilkinson_logo_web.png
Rachel Wilkinson
2018-10-05 12:57:58
2018-10-05 12:57:58
Cafe Society