Spirituality on the Rise in a Post-Pandemic world!
While divination and mystical arts may all sound a bit Harry Potterish, one Brisbane business owner has discovered these additional services added to holistic counselling have been a surprising source of income in a challenging year for small businesses.
Australia now has many people who call themselves spiritual but not religious, and according to the online Buddhist forum Lion's Roar, it is a growing trend increasing in numbers with spiritual not religious now the fastest-growing philosophy in the United States.
It seems desperate times call for desperate measures with Australians looking elsewhere for support and guidance in a post-pandemic world. According to the Guardian newsprint service, the fear and upheaval spread by the pandemic have driven an extra need for reassurance, whether being unable to attend the funeral of a loved one, or changes in employment or businesses seeking a way forward. Many services from healing, mediumship, astrology, and tarot cards have experienced an increase in activity with Forbes magazine reporting a spike of 136% increase since 2020.
Holistic Counsellor, Rachel Wilkinson became aware of this shift in focus this year, as her requests for reiki, an ancient Japanese form of energy healing increased. For several years her most popular modality was counselling, with occasional reiki. After studying with The School of Mystical Arts in July 2021, she now offers Spiritual Coaching. This includes the use of guided meditation, journaling, and looking at values and interests to arrive at one's purpose. The use of reiki and listening with an open awareness are ways she uses divination to access the higher self, using clairvoyance (clear seeing) clairaudience, (clear hearing) and claircognizance (clear knowing), and clairsentience (clear feeling). As an empath and a highly sensitive person (HSP), these elements are used to access deeper healing by tapping into the energy channels in the body as well as using a person's external energy fields, soul family, and guides.
Meditation over medication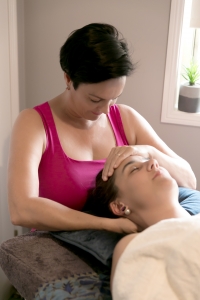 Rachel said, "After I started talking on social media about my use of intuition and spirituality, my appointments increased, and I realised just as many people were coming to be counselled for depression, anxiety, and relationship breakdowns, like healing, reiki, and spiritual guidance – this was a first. I checked my booking system and sure enough in the last quarter, I'd seen 49% of people for reiki/energy healing and 51% for counselling. Pre-pandemic, reiki made up about 10% of my work."
"I began to leave my reiki treatment table up permanently. People were bringing in the most fascinating life stories and were open to discovering more about themselves and were willing to be vulnerable and curious. My role changed from observer to collaborator as I listened and allowed these emotions and stories, creating space for the person to heal themselves."
One client texted after a Master Healing session:
I was so impressed with your insight and intuitions into my life. No one has ever read me so deeply or so spot on. I felt so light like a massive weight had been taken off my shoulders. I am rejuvenated with an extra spring in my step – head held high, a smile on my face radiating from the inside!
As people are beginning to show distrust of the medical model of psychology and pharmacology, many are choosing unique and ancient healing modalities such as meditation, yoga, kinesiology, kahuna massage, acupuncture, hypnotherapy, and reiki as self-care options. With opportunities for interstate and overseas travel limited, these therapies can be like a mini-vacation for the soul.
Rachel said she is finding, "people want a deeper connection due to the isolation of working from home, and often they miss friends and family who may be interstate or overseas. We all have more time on our hands, and fewer places to go, so self-care is now becoming critical to avoid burnout and social disconnect."
Remote Healing
The benefits of Reiki can be felt immediately as a calming, relaxed state or can also be sent virtually to help support people through loss and grief, relationship breakdowns, workplace stress, and recovery from addiction. After more than a decade of sitting in spiritual circles, a keen meditator and yoga student, Rachel uses reiki as a pure channel for spirit communication.
Adapting to this current climate takes a little flexibility and resourcefulness. To provide services to people in remote areas, or people at home with children, counselling services, spiritual coaching, and remote reiki were adapted to online appointments using Facetime, Zoom, and Skype. As a lifelong learner and seeker, Rachel is currently completing her Master of Counselling as well as exploring the idea of studying Buddhism in 2022 to supplement her holistic approach to wellbeing.
Rachel Wilkinson is the author of the e-book Hell in a handbag documenting her 90-day journal into sobriety. She is also a regular guest and counselling advisor for Rainbow Conversations on the local Brisbane radio station Bay FM and quite the Harry Potter fan.
Research weblinks
https://www.mindbodygreen.com/articles/the-4-types-of-intuition-and-how-to-tap-into-each
https://www.theguardian.com/lifeandstyle/2020/dec/26/im-getting-clarity-a-time-that-will-feel-lighter-psychics-share-their-2021-predictions
https://www.rachelwilkinson.com.au/wp-content/uploads/2017/04/rachel_wilkinson_logo_web.png
0
0
Rachel Wilkinson
https://www.rachelwilkinson.com.au/wp-content/uploads/2017/04/rachel_wilkinson_logo_web.png
Rachel Wilkinson
2021-11-02 08:33:36
2021-11-02 08:38:51
Spirituality on the Rise in a Post-Pandemic world!